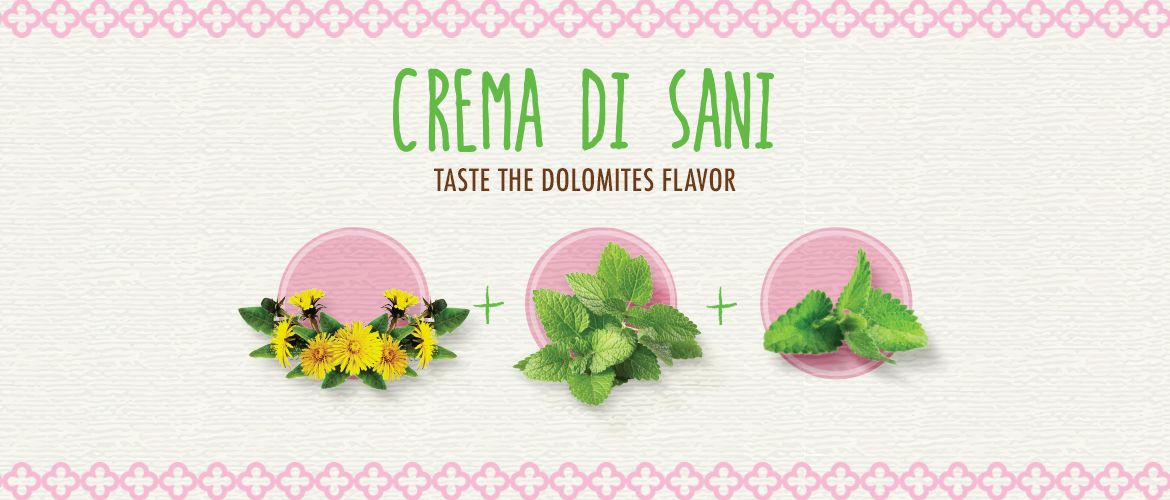 Taste the Dolomites flavor!
Val Visdende – jedno z  příjemných míst pohoří Dolomit, kde vzniklo naše speciální gelato. Nádherná přírodní scénérie, která má svojí jedinečnou atmosféru.  Našim cílem bylo přiblížit "ducha" této krásné přírody a nápad byl tady. Vytvořit takové gelato, které svoji chutí bude Dolomity připomínat. Právě příchuť "SANI" je tvořena směsí pečlivě vybraných aromatických bylin sesbíraných ve Val Visdende  (více zde https://goo.gl/maps/xsKQ2DQtgt32 ). Pozitivně přispívají k celkové svěžesti organizmu a mají pozitivní účinky na naše zdraví. Jedná se o směs pampelišky, kopřivy a máty. Pro tamější farmáře bylo překvapení, že jsme se rozhodli z této směsi vytvořit speciální gelato. Podařilo se a zdravé gelato je tady!
Val Visdende – is one of the places on the Dolomites mountain range, where this special gelato originated. The most beautiful and relaxing landscape of the Dolomites, where everyone can feel the "real"spirit of the mountains. We wanted to take the spirit of that atmosphere which is located in high mountains and make a special flavor which reminds people of this extraordinary natural scenery . The "SANI" flavor present aromatic herbs collected and carefully combined at this place (discover more https://goo.gl/maps/xsKQ2DQtgt32 )It has positively contributed to our freshness and helps to stay healthy. Dandelion, nettle and mint are a beneficial mix. The farmers were not surprised that we started to collect these plants. they were only surprised about our decision to make a gelato from them because no one has thought about it before!