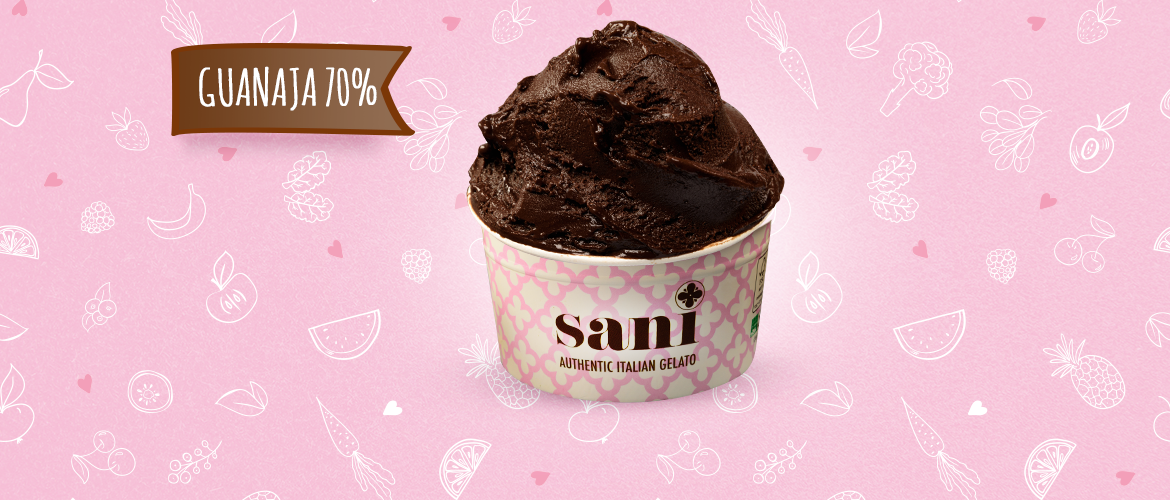 Have you ever tried our "cioccolato fondente Guanaja 70%"? Tell us!
Nepřeberné množství nejen tradičních, ale i originálních příchutí gelata, nejčerstvější novinky a trendy – to je SANI! Na své si u nás zaručeně přijdou i milovníci čokolády. Ti si mohou vybrat z několika výtečných čokoládových variací. Ten, kdo holduje hořké čokoládě, určitě nepohrdne příchutí "cioccolato fondente Guanaja 70%". Vychutnat si můžete luxusní hořkou čokoládu Guanaja s vysokým obsahem kakaa, která je 100% veganská a neobsahuje lepek. Tmavá čokoláda prodlužuje život a je bohatým zdrojem antioxidantů. Tak neváhejte a přijďte odhalit tajemství našeho gelata "cioccolato Guanaja 70%". Buďte zdraví, buďte SANI!
Plenty of traditional, original flavours of gelato, the latest news and trends – that is SANI! Anyone can enjoy a wonderful time with our gelato, especially the chocolate lovers! The ones who prefer bitter chocolate, certainly will love our gelato "cioccolato fondente Guanaja 70%. Luxurious bitter chocolate Guanaja, with a high content of cocoa: is 100% vegan and does not contain gluten. As we know, dark chocolate prolongs life and is a rich source of antioxidants. So don't wait any longer, come and discover the secrets of our "cioccolato Guanaja 70%." Be healthy, be SANI!