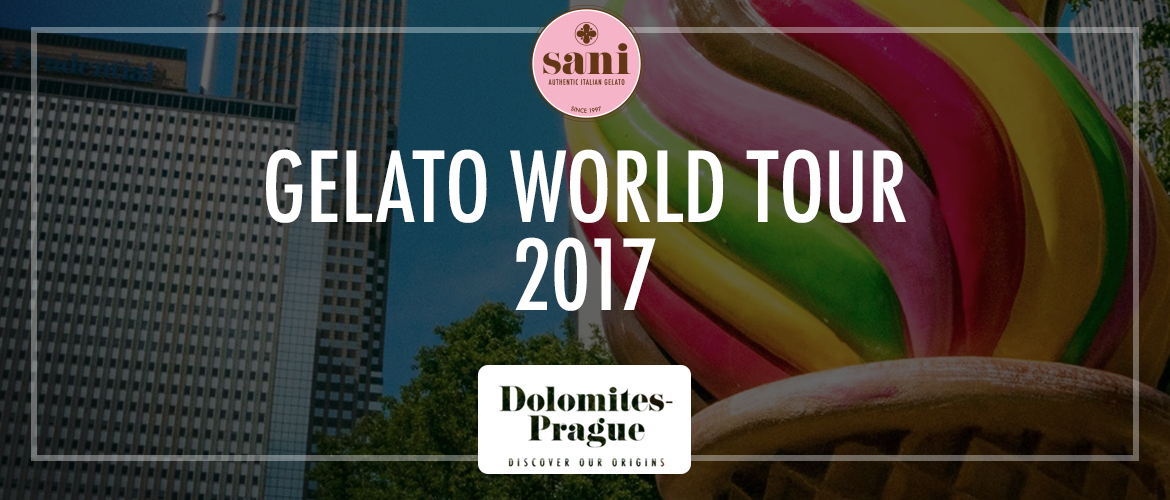 We are so proud to participate to Gelato World Tour 2017!
Gelato World Tour 2017, sladká soutěž o nejlepší řemeslné gelato, je pro nás opravdovou výzvou. Ptáte se proč? Je to jednoduché. Jde o celosvětové cukrářské klání, které všem jasně říká, že řeč je o gelatu. Nikoliv o zmrzlině – našem největším konkurentovi. Zmrzlina je něco jiného. Průmyslový produkt, který využívá jiné ingredience a odlišné způsoby zpracování. Tyto dva pojmy bychom proto neměli zaměňovat, a to i přes silnou přítomnost zmzrlinářského marketingu. Základem gelata jsou přírodní, zdravé a nutričně hodnotné suroviny, ze kterých si SANI míchá gelato podle svých osvědčených a originálních receptů. Jeden z nich – mix "grep máta anýz" – vyhrál národní kolo oblíbené světové sorbetové soutěže Gelato World Tour. Jako vždy jsme vsadili na využití čerstvých surovin a na nové trendy ve výživě. Příchuť tvořená z grepů ze Sicile, máty z hor a anýze – byliny, kterou je možné nalézt všude v Itálii – bude soutěžit s ostatními vítězi z celé Evropy. Finálový cukrářský souboj proběhne 24.- 25. července v Bologni, tak nám držte palce!
Gelato World Tour 2017, sweet competition for the best gelato, is real challenge for us. Why? Simple answer. It is a worldwide event that strongly emphasise that we talk about gelato, not about the ice-cream – our biggest competitor. Ice cream is something else. An industrial product made in a totally different way, by totally different ingredients. We must keep these two concepts separated. Even though the ice-cream marketing is so powerful. Gelato is not ice-cream. Gelato  is natural and healthy. Our refreshing flavor "grep mint anise" won the national qualification of the Gelato World Tour. As always, we have bet on the use of fresh ingredients and we have focused on healthy and new trends in nutrition. A flavor made of Sicilian grapes, mint from the mountains and anise – herbs that can be found everywhere in Italy – will compete with other winners from all over Europe. The final competition will take place on 24-25. July in Bologna, hold us your thumbs!