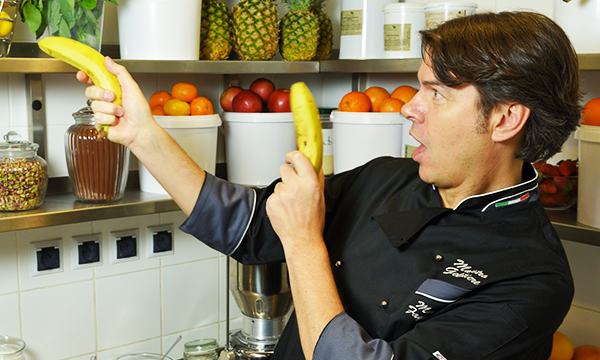 Not only minions love banana!
Ne jen známý mimoň Kevin miluje banány tak, že je vždy připraven je sníst všechny. I SANI zná tajemství této oblíbené, rychlé, prakticky zabalené a zdravé svačinky. Cílem SANI ale není je všechny do jednoho sníst. Naopak. SANI se rád dělí. Z banánů pro nás připraví lahodné, přírodní gelato, na kterém si může pochutnat každý z nás. A jak? Není to žádná nuda. V případě Morena jsou to momenty plné zábavy, příjemných okamžiků a lásky k gelatu. Jeho cílem je vytvořit nejen zdravé a chutné gelato, ale takové gelato, které je 100% přírodní a tvořeno ze surovin, které mají jasný původ. Ani recept není těžký. Nejlepší k použití jsou starší banány. Ty jsou nejlépe stravitelné. Pak stačí přidat vodu, cukr a pravé nefalšované gelato je na světě. Je to zábava. Pojďte si ji užít s námi!
Not only famous Minions Kevin loves bananas. He is ready always to eat all bananas which he sees. SANI is aware of the unique flavour of that healthy and favourite practical fruit as well. But not eat them all. He likes to share. Creates delicious gelato ready to be eaten to all of us. Making unique gelato is not  boring automatic process, in Moreno´s case it is usually funny moment full of fun, passion and love to gelato. The goal of SANI is to bring the healthy and tasty 100% natural gelato with raw materials made in Italy. The recipe itself is easy. The best are the "old" bananas which are the most digestible we add sugar, water and authentic gelato is born! It is fun, let's go to enjoy with us!