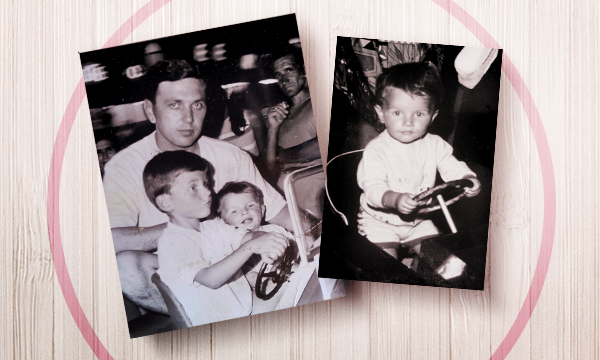 Sani is Moreno's dream to be like his personal hero – his father!
Gelato od Morena je připravováno s láskou a vášní. Podobnou láskou, kterou Moreno cítil ke svému otci. Jedno známé přísloví říká, že "jablko nepadá daleko od stromu". V případě Morena to platí. Jeho otec, kterého Moreno miloval, byl slavný zmrzlinář. Otec mu opravdu rozuměl a byl jediný, kdo mu dokázal pomoci v jeho rebelském dětství. Moreno považoval svého otce za hrdinu, který dělá prostě tu nejlepší zmrzlinu na světě.
Nikdy nezapomene na okamžiky strávené s ním. Zvláště vzpomíná na jedno krásné letní odpoledne. Zmrzlinářský vůz jeho otce přijel do hor, kam byl Moreno zvyklý chodit se svoji rodinou a přáteli. Když jeho otec přijel, Moreno akorát hrál fotbal. Všichni děti s nadšením kupovaly zmrzlinu a Morenova otce považovaly za hrdinu. Nebylo to jen o zmrzlině, ale hlavně o prožitém momentu štěstí a pohody. Důvod, proč se také rozhodl Moreno následovat cestu svého otce a přinášet lidem stejné pocity štěstí, jako dělal jeho otec. Díky tomu pokračuje tradice italského gelata, které si nyní můžeme vychutnávat i zde v Praze!
Gelato from Moreno is made by love and passion. The same love like Moreno felt to his father. One famous metaphor says: "The apple is not falling far away from the three". In case of Moreno is confirmed. Moreno's father was famous gelato master. Moreno really loved him. He was the only one who really understood how to talk with him and help him during his rebellion childhood. He consider him like hero, who made the best ice-cream around the world.
He never forget the moments spent with him. Especially one sunny summer day. The ice cream van arrived in a place in the montaign where Moreno was used to go with his family and friends. When his father arrived Moreno was playing football. All children were enthusiastically buying his ice-cream and considered him like a superhero. It was not only about the ice-cream, it was about the moments of happiness and enjoyment as well. That's why he decided to bring people happiness like his father did.. Thanks to that the tradition of authentic Italian gelato can continue and be enjoyable by us! Even here in Prague!